There is nothing like the feeling of getting rid of BUSH! Damn, people get mad, but the bottom line was for the past 8 years we were under a theocratic nation and a WARPED one at that. Now I am looking forward to these two. My hopes for our nation is not only for the GLBT, but for EVERYONE. For those that are going from 6 figure jobs, to that 8 dollar an hour one. From those that have lost everything, to those that are currently losing their homes.
I am proud to be a part of HISTORY. To watch the changing of the guards and to have a guard that I actually voted for.
I know that the mess this nation is in will take more than 4 years to clean up, but I am
hoping
that we see change and we will all be happy and content with this change.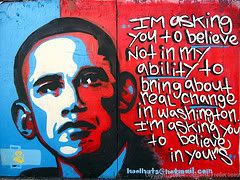 I have strong hope for the GLBT community as a whole. I feel that 2009 is just the beginning for us all. There are many in office, and after watching MILK, I strongly believe that in order for us to see change, a lot of us have to be in office or in leadership positions.
I am very excited that the White House will now have POC. I feel their victory is victory for minorities.
AGAIN I AM JUST EXCITED THAT IDIOT IS OUT OF OFFICE!